As per International Standard, the size of an athletic track is 400 mts x 10 mts
The surfaces available for IAAF approved athletic tracks are: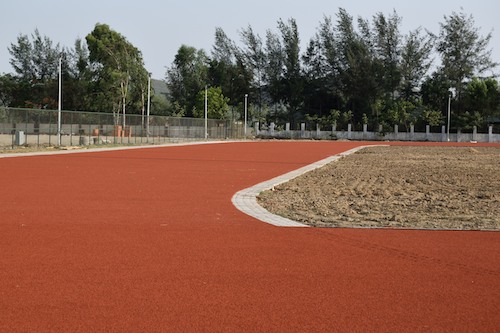 Lesutan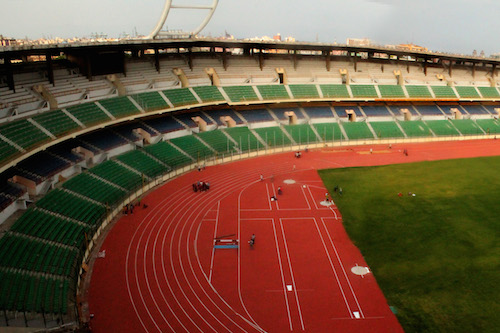 Stockmeier Urethanes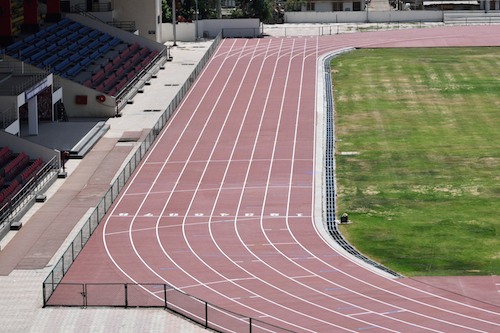 Mondo
Full polyurethane (LESUTAN P)



It is in natural granule structure of waterproof as viewed from appearance, and It Is formed once laid with the special PU for sports field and granule as sprayed on surface. The synthetic surface is highly capable for physical elasticity and highly wear-proof under any bad weather in long time sunshine, rainy days and freezing.
Sandwich System (LESUTAN S)



It is in the structure of natural granule surface laid for multiple layers, and it is waterproof, highly elastic and designed in dynamic The base layer is coated mechanically once mixed with the PU adhesive and the special granule for track as highly flat Once the surface layer is scratched and filled, it is formed once sprayed with the granule. Its construction is attracted with the process for both types of traditional and vent for track with their advantages.
LESUTAN V



It is in coated granule structure as viewed from appearance, and it is highly water penetrative, vent and wear-proof. The prime layer is coated mechanically once fully mixed with the PU adhesive and the special granule for track as highly flat, while the surface layer is in crossed coating twice with the special coating machine for track once mixed with the highly-strength PU a granule for the texture as formed in special organization as highly wear-proof and endurable for friction. Once the track as coated mechanically is formed, the material includes multiple holes without any holding of rainfall for use immediately to improve its efficiency.
There is one track system to meet all requirements – Alsatan®. From school sports to high performance
athletics – Alsatan® sports floors offer specially adjusted formulations and thicknesses for a variety of uses. Wear resistant, secure and elastic, they provide the ideal foundation for sports success.
Of course, our Alsatan® systems are tested and certified according to both, the DIN and EN standards as well as to the IAAf regulations.
Alsatan



Compact and non porous
Durable, non porous system for high performance
sports.
A three layer construction using a flexible polyurethane elastomer. Black rubber granules are coated in polyurethane resin then coloured granules are broadcasted on the surface.
Formulated especially for sprinting and high performance athletics.
Alsatan SW



Non porous, sandwich design
Flexible non porous athletic track.
Good spike resistance. Flexible elastomeric base layer using black rubber granules and polyurethane
binder then sealed with a two-component polyurethane system and a final coating with a two-component polyurethane and coloured granules broadcasted on top.
System formulated for athletic tracks and multi use games areas.
Alsatan SC



Porous textured spray coated system
A fine granules structure, providing a soft, comfortable surface.
The system is made up of black rubber granules, bonded together with a flexible polyurethane
binder. Then a structured spray of resin and fine rubber granules on top.
Cost-effective surface for use at schools sports and athletics sports. Very safe multisport system.
Alsatan P


Porous two-layer system
High quality, fully permeable system.
Two layers composed of polyurethane binder and rubber granules, first black then coloured.
All-weather surface, suitable especially for schools and tennis.
MOLDED AND VULCANIZED TOP LAYER
Vulcanizing natural rubber makes a strong
material even stronger
Mondo's vulcanized track surface provides maximum elasticity and unparalleled durability. Surface deterioration is minimal throughout the long life of the track. Technically superior construction Firm, non-slip surface with enough cushion to allow the foot to move as it needs. The consistent, factory embossed surface texture provides a great usable surface contact area.
GEOMETRICALLY MOLDED AND VULCANIZED BOTTOM LAYER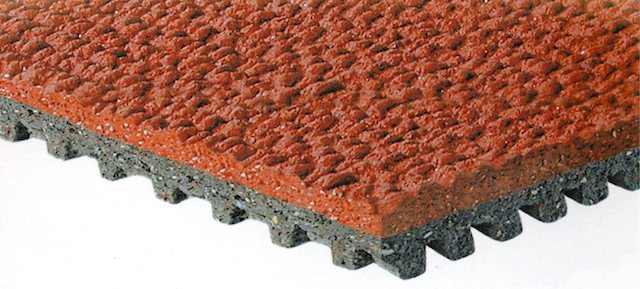 EMBOSSED TEXTURED FINISH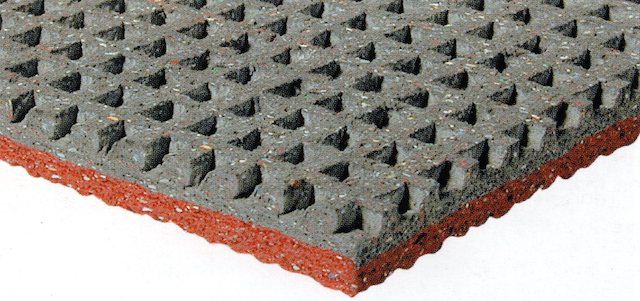 No coating or granules.
Granule-free, never cracks or shrinks.
Extremely maintenance friendly.
On a regular basis, normal rainfall carries away the surface dirt.
No resurfacing is required.
No top coating to wear through or granules to wear off.
Performs in all conditions.
Installed everywhere in the world, consistent performance in warm and cold climates.
Channels water away.
Provides great traction in wet conditions.
UV stable.