As per International standard, there is no specific size of a jogging track and it depends as per the area available and client's requirement. The minimum width recommended is 10 feet
The surfaces available for a football field are: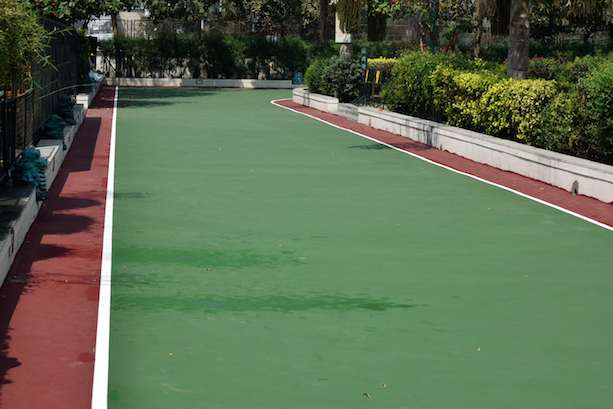 Trackmaster Plus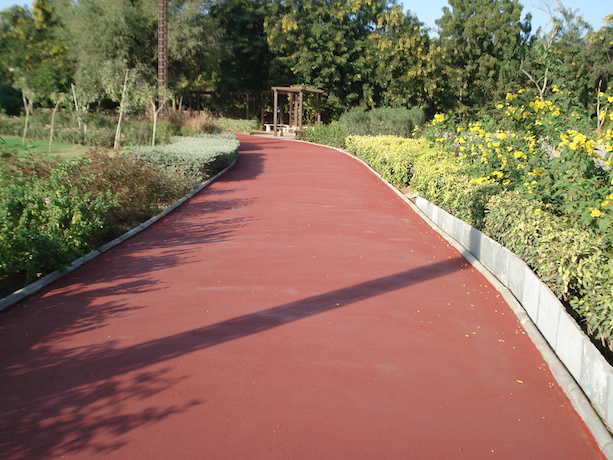 SBR Synthetic Surface
SportMaster running track systems are designed for application over properly prepared asphalt or concrete surfaces. TrackMaster systems contain small rubber granules that enhance the flexibility of the coating and add to the overall shock absorption of the surface. Our synthetic running track formulations beautify and protect against oxidation, raveling, and moisture penetration.
TrackMaster Plus is available in all SportMaster standard colors by utilizing ColorPlus Pigment Dispersion. ColorPlus contains high quality pigments to ensure vibrant color, hiding, and many years of non-fading performance.
TrackMaster Plus uses include:
Walking path, jogging trails, middle and high school track

Coating for rubberized asphalt track
There are 3 options in an synthetic surface:
Non cushion synthetic surface

Budget cushion synthetic surface

Ultra cushion synthetic surface
Trackmaster Plus System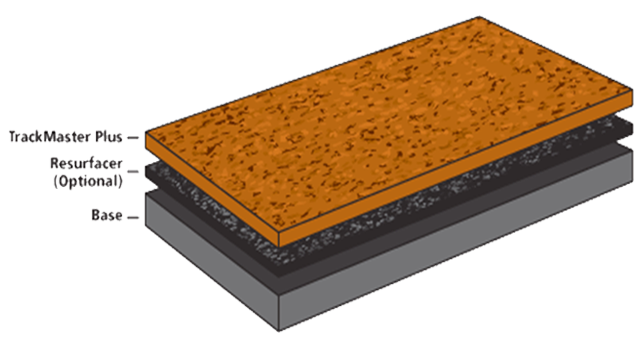 Advantages of Trackmaster Plus surface are as follows:
Maximum cushion comfort

Low cost maintenance

Long term protection from all elements and supreme resistance to sun damaging ultra violent degradation

A tight grip to your shoes provides excellent traction

Increases shock attenuation for better health and longer running comfort.
Trackmaster plus surfaces care instructions:
Clean your track once in a month with regularly water

Remove standing water

Remove foreign matter such as leaves, pine needles, dust and debris.

Use proper equipment to clean surface such as soft nylon or hair type brooms and rubber wipers
Limonta NewGrass offers an ample range of choices for tennis. With different structures and fibre compositions, thickness, nap density and sand infill, it is possible to reach performance conditions that are suitable to both amateur and the most demanding professional players. The draining rubber latex underlayer allows NewGrass tennis court to be used year round under a variety of climatic conditions. NewGrass is available in a "kit" version, with lines already woven in the covering and the possibility of constructing two-tone courts (green, blue and red). The speed of installation, the reduced maintenance, its durability, and its high performance characteristics make NewGrass the ideal surface for tennis courts.
Limonta Sport has obtained different ITF (International Tennis Federation) certifications for the NewGrass line. Thanks to this important recognition, Limonta Sport guarantees products that are high-quality, high-performance, and continually improved according to market developments and player demands.
For best performance of synthetic grass the recommended base should be smooth cement concrete.
Sectional View of Limonta Newgrass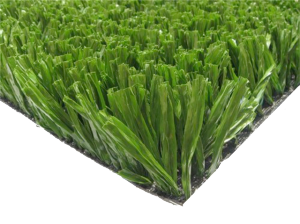 Advantages of Limonta NewGrass:
Playable throughout the year

Looks and feels like natural grass- retains color, no bare patchest

Extremely durables, even with intensive usage

Unique fibre structure making it UV- resistant and hard-wearing

No extra risk of injury- cushioned system, makes playing enjoyable

Optimal shock absorption

Easy to maintain

Environmentally friendly – made from materials that are recyclable

Water drains out quickly
Styrene Butadine Rubber synthetic surface is the best surface for a tennis court as it gives maximum cushion comfort while playing and can be layed on cement concrete or asphalt base. SBR prefabricated rolls are of 3mm thickness with PU bi component. SBR exhibits excellent tensile strength, abrasion resistance, flexibility and recovery properties that are characteristic of "cold" rubbers. This non-staining, non-discoloring polymer makes the life of surface more durable.
100% acrylic budget cushioned synthetic surface will be laid on top of SBR sheet and its total thickness will be 7 to 8 mm.
SBR synthetic surface is used in all international tournaments.
Styrene Butadine Rubber Sheet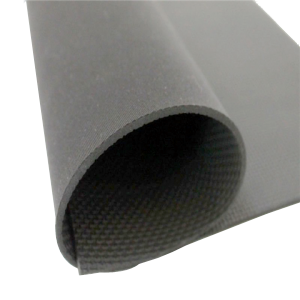 Advantages of SBR Synthetic surface:
Minimum undulations in the surface

Durability of the surface will be more compared to other surfaces

Maximum comfort while playing which reduces injury

Can be laid on cement concrete and asphalt surface

Low Cost maintenance