As per International standard, the size of hockey field is 100mts x 60mts which includes playing area and non playing area. The surface available for a FIH approved hockey field is Limonta Newgrass.
Limonta Newgrass: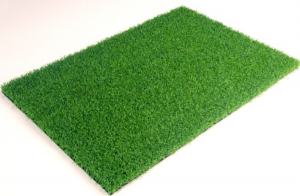 Limonta today is able to offer:
A full range of full synthetic , sand-dressed and sand-filled solutions
Systems that allow great player comfort and great performance
System designed to meet with reduced water consumption
Newgrass is the best surface for hockey pitches. Newgrass is available in the traditional sand-filled version, in the unfilled version and in the sand-dressed version. The used yarns are made out of polypropylene or obtained from the combination of special copolymers the backing can be produced with rubber latex and/or with elastic support of different structures and types of material having various draining characteristics which allow the elimination of rain water and ensure the up keeping of a surface humidity ratio which is specific for the requirements of hockey.
The unfilled carpets ensure a perfect flatness of the surface, high elasticity, uniform and shiny color – in fact they have been approved by the international hockey association for high level competitions. They are also suitable for use in indoor facilities since they avoid the production of dust.
Advantages of Limonta NewGrass:
Proper roll of ball
Low cost maintenance
Increases player performance